Size Guide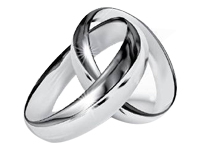 HOW TO FIND YOUR RING SIZE
If you do not know your size, you can measure the inside diameter of one of your own rings.
Place the ring on the circle and use the drop-down menu to find the corresponding inner ring diameter and the most suitable nomination size for you. If the diameter of your ring is between two sizes, we suggest that you choose the larger size.
INTERNAL RING DIAMETER
165 cm
168 cm
172 cm
174 cm
178 cm
181 cm
NOMINATION SIZE
11
12
13
14
15
16
UNITED KINGDOM
M
N
O
O
P
Q
EU / FR
52
53
54
55
56
57
Our bracelets, rings, and necklaces come in sizes unique to OWNORY jewelry. You can determine your perfect size with our guides below or contact us at 0955800457 for assistance.
HOW TO FIND YOUR OWN BRACELET SIZE: 2 STEPS
Step 1
Get your wrist measurement
1. Measure your wrist. Using a measuring tape, measure tightly just above the wrist bone as below.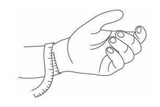 If you do not have a measuring tape, you can use a thin strip of paper. It is important to use a thin, flat paper strip. If you use a thick string, you will end up with a measurement 1 – 2.5 cm. longer than your actual wrist size.

Wrap the strip around your wrist, and mark with a pen or marker where it starts to overlap. Lay the strip flat and measure its length up to the marker with a ruler.
2. Round up the measurement. Take the measurement from either the measuring tape or paper strip and round it up to the next 1 - 2 cm. This shall be your wrist size.